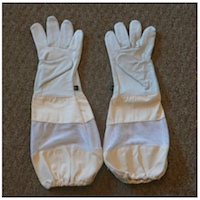 Bee Vented Leather Gloves for Beekeepers
SKU 41102
Product Details
Quality goatskin beekeeping glove with vented mesh and an elastic cuff. Protect your hands while avoiding the excess heat from solid cuffs. Goatskin construction offers superb protection and wear while giving the added benefit of being both softer and more pliable for added dexterity. Universal for fit for both men and women and available in multiple sizes.
Gloves size is determined by measuring across the knuckles, not including the thumb (aka the widest point of the palm). You want your gloves to fit snugly as the leather will stretch slightly over time.
2 1/2" - 2 3/4" Extra Small
3" - 3 1/8" Small
3 1/4" - 3 5/8" Medium
3 3/4" - 4" Large
4 1/4" - 4 1/2" Extra Large
---
Quantity: One (1) pair

Limited delivery area and times:

To 33933 and Burnt Store Marina on Fridays
To 33904 and 33914 on Mondays
Delivery cost: Free on orders over $10
Delivery area: 33993, 33904, 33914 and Burnt Store Marina community
Shipping cost: Carrier calculated
Shipping: USPS Priority Mail in the continental US only
Farm Pick Up cost: Free
Farm Pick Up by Appt: Pick up appointments must be scheduled at least 24 hours in advance.
Pick Up at Gulf Coast Beekeeper Meetings | Collier or Charlotte: Free
Collier:1st MONDAY of each month
Charlotte:2nd TUESDAY of each month
Save this product for later
---
How to Select Your Beekeeper Suit