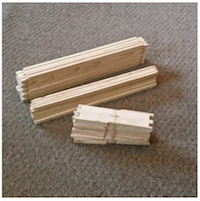 Bee Hive Frames | All Sizes | 10-frame Langstroth | Unassembled or Assembled
SKU 41204
Product Details
Unassembled wood frames. Sold in quantities of 10 and includes 10 top and bottom bars along with 20 end bars. These have both a grooved top and bottom bar and are meant to be used with plastic foundation. Nails/staples/foundation not included. Sold in multiples of 10.
__________________________________________________
Assembled frames are an intermediate option between plastic and "wire and wax", these frames feature a traditional wood frame with wax coated plastic foundation. Completely assembled and ready to go. Sold in multiples of 10.
For assembly, we recommend drilling pilot holes prior to nailing to prevent splitting. (nails not included)

Assembled hive bodies may require 24-48hr notice for pick up at the farm. Please eMail us or call 239-443-5597 to order assembled hive bodies.
---
Size Chart:
Deep
fits 9 1/8" frame
fits 9 5/8" box
size 8 3/8" and 81/2" x 16 3/8"
Deep
Deep Super
Hive Body
Brood Box
Brood Nest
WI Super
fits 7 1/4" frame
fits 7 5/8" box
size 6 1/2" and 6 5/8" x 16 3/8"
Uncommon Size
3/4 Super
Wisconsin Super
IL Super
fits 6 1/4" frame
fits 6 5/8" box
size 5 1/2" and 5 5/8" x 16 3/8"
Medium Super
Illinois Super
Modified Super
Dadant Super
Most common size for Honey Super
Shallow Super
fits 5 3/8" frame
fits 5 11/16" box
size 4 3/4" x 16 3/8"
Shallow Super
Often used for Cut Comb
---
Quantity: Ten (10) Frames

Limited delivery area and times:

To 33933 and Burnt Store Marina on Fridays
To 33904 and 33914 on Mondays
Delivery cost: Free on orders over $10
Delivery area: 33993, 33904, 33914 and Burnt Store Marina community
Shipping cost: N/A
Shipping: Not available
Farm Pick Up cost: Free
Farm Pick Up by Appt: Pick up appointments must be scheduled at least 24 hours in advance.
Pick Up at Gulf Coast Beekeeper Meetings | Collier or Charlotte: Free
Collier:2nd MONDAY of each month
Charlotte:3rd TUESDAY of each month
Save this product for later
---
How to Select Your Beekeeper Suit