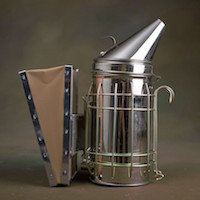 Bee Smoker for Beekeepers | Stainless Steel | Removable Bellow
SKU 41302
Product Details
Our affordable smoker (height 11") has all the features you'd expect at a price you wouldn't.
Features include:
Stainless Steel Construction,
Convenient Lid Tab,
Protective Guard,
Removable Bellow.
---
Quantity: 1

Limited delivery area and times:

To 33933 and Burnt Store Marina on Fridays
To 33904 and 33914 on Mondays
Delivery cost: Free on orders over $10
Delivery area: 33993, 33904, 33914 and Burnt Store Marina community
Shipping cost: Carrier calculated
Shipping: USPS Priority Mail in the continental US only
Farm Pick Up cost: Free
Farm Pick Up by Appt: Pick up appointments must be scheduled at least 24 hours in advance.
Pick Up at Gulf Coast Beekeeper Meetings | Collier or Charlotte:
Free
Collier:
1st MONDAY of each month
Charlotte:
2nd TUESDAY of each month
Save this product for later
---
How to Select Your Beekeeper Suit