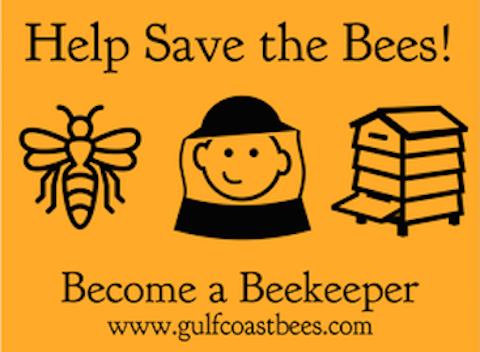 Gulf Coast Beekeepers Association | Annual Membership w optional Florida State Beekeeper Association Membership
SKU 99000
Product Details
Mission
Our mission is to provide local support and mentorship to all local beekeepers, to encourage and educate new beekeepers and to educate the public about honey bees and beekeeping in this Gulf Coast region of Florida.
---
Gulf Coast Beekeepers of Florida! If you live in Sarasota, DeSoto, Charlotte, Collier or the northern part of Lee counties, we welcome you to join us for bee-friendly events & workshops! All skill levels encouraged to join!
At our meetings, we will be discussing what should be going on in your south Florida hive that month, any current problems we face as beekeepers, from current pest and infections to local and state legislative as well as where to get equipment and supplies locally and any current bee-related events.
We will have a honey booth during each County Fair where we will sell local honey, honey straws from our members and give away free information on beekeeping and honeybees.

Seasonally, there will be two Intro to Beekeeping courses to help encourage and educate new beekeepers. We are working on bringing these courses online in the future.

Some of our beekeepers also sell their Honey at the local farmers markets and others may participate in bee removals. So, there will always be something for everyone.

Meetings will be held from 6-7 pm on
the second Monday of each month at University of Florida/IFAS Collier County Extension

14700 Immokalee Rd, Naples, Florida 34120

the third Tuesday of each month at UF/IFAS Charlotte County Extension at
---
JOIN GULF COAST BEEKEEPERS of FLORIDA
Gulf Coast Beekeepers of Florida ($25 Jan-Dec) member benefits:
Private Facebook Group page with online classes, Q&A, troubleshooting and more. Post your pictures and let us help you. Mentoring and Beekeeping comraderie that help you celebrate your wins and troubleshoot your hive as you learn beekeeping.
Monthly educational meetings, workshops and events at IFAS Collier and Charlotte county Extension offices. Collier county is the 2nd MONDAY each month from 6-7pm. Charlotte county is the 3rd TUESDAY each month from 6-7pm.
10% discount on beekeeping supplies from GreenView Aquaponics online Farm Store with free delivery to monthly meetings
Advance Registration and Discounts on beekeeping events at GreenView Aquaponics Family Farm & Apiary.
End of Year party
---
Types of Gulf Coast Beekeepers Association of Florida Membership:
Single GCBA membership $25
Couples GCBA membership $30
Family GCBA membership $35 (any member of the same household)
Youth GCBA FREE (ages 12-16)
Children under the age of 12 are most welcomed at the meetings with a parent, but may not be able to participate in all the events that go into the hives, involve making certain beekeeping equipment, etc.
---
Add optional Florida State Beekeeper Association ($30 Jan-Dec)
Membership to FSBA is not required to join GCBA, although it is highly encouraged. They are the unsung heroes that protect beekeepers large and small with not only outreach and education, but also by standing up for us all with efforts for beekeeper-friendly laws.
FSBA Member benefits:
Support for honey bee research and beekeeper education
Support of sound beekeeping practices
Support of Florida Apiary Inspection Program and prudent apiary regulation
Support of local, small-scale processing and marketing of honey through reasonable food safety regulations
Annual conference and tradeshow
Florida Honey Queen program
Educational outreach
Representation on Florida Honey Bee Technical Council
Representation on Florida Farm Bureau Apiary Advisory Committee
Save this product for later