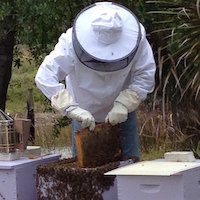 One-on-One Private Beekeeping Lesson
SKU 99006
Product Details
Want a to learn from a UF Advanced Master Beekeeper?
Now you can train one-on-one with Timothy. It's a private class with private beekeeping lessons tailored to your specific needs. You can choose from 1 to 4 hours. You don't have to live in the area, simply plan to visit Tim the next time you want to take a trip to Florida. First, choose the amount of time you want to train, share what you hope to learn, provide us with your two date selections and the names of those you are inviting to your private lesson. Then we will customize your lessons to focus on your requested needs before you arrive.
These classes are held at our apiary in Cape Coral, Florida. Sessions may involve being in a hive (nice weather only) or sitting down with Tim. You may bring others with you, such as a friend or spouse, but the more you bring the less one-on-one it is.

The One-on-One private lessons are not designed to teach you how to START to beekeep. If you are serious about learning to keep bees, we recommend you start by taking the Intro to Beekeeping class and use these one-on-one private lessons to supplement your learning AFTER you have taken the foundational basics.

---
Gift certificates are available for download after payment for the One-on-One Private Lessons, if you want to give a beekeeper a wonderful gift!
---
Time: Schedule varies
Select your two (2) date preferences to allow for scheduling and we will do our best to accommodate your choices.
---
Required:
appropriate attire, including closed toed shoes, socks, long pants. Cap or hat recommended
a signed waiver
children under 17 to be accompanied by paid adult
private lessons are limited to 3 people to make sure everyone gets to enjoy the full experience
---
Private Lessons include:
protective clothing, includes jacket with veil, gloves for use during lesson
equipment, including smoker, hive tool for use during lesson
bottled water
---
REFUND Policy:

Cancellations received prior to confirmation are eligible for a Full Refund.
Cancellations received after confirmation, but prior to 48 hours prior to the confirmed tour will receive a 75% refund
NO Refunds within 48 hours of a confirmed reservation.
Refunds are at the full discretion of GreenView Aquaponics, LLC

Rainchecks will be given in the event of inclement weather, which includes not only rain, but also winds over 25mph to allow Private Lessons to be rescheduled for a mutually convenient time.
You may also transfer a ticket or gift certificate to another party in the same age range prior to the start of the lesson. Transferred party must sign waiver.
Save this product for later